The cancer journey for many children can be very tough; they may experience anxiety, lose confidence and become withdrawn. Elliot can play an important role in helping them communicate with their family and medical team. Children may share their concerns with Elliot, or ask questions, which they may not feel comfortable asking anyone else.

When you make your donation, you are making sure every child diagnosed with cancer and referred to the Childhood Cancer Association receive their very own Elliot and have access to our full Elliot Support Program.

Holly is just one of the hundreds of children who have been gifted their very own Elliot, to support them on their cancer journey.

At 17 and whilst completing year 12, Holly was diagnosed with Lymphoma in her bowel.
''It was a tricky age at 17, I didn't want to be around young kids, seeing them sick because I didn't think I would cope with that, but I wasn't ready to be left on my own going through all of that by myself. I still needed my mum to stay with me, I had shut off and didn't want to know everything. My mum was my rock, and the Childhood Cancer Association was hers," – says Holly.

Holly went in for surgery to have the tumor removed along with part of her bowel. After recovering from surgery, Holly went through three rounds of chemotherapy as a precaution over the following months, travelling back and forth to the Women's & Children's Hospital.

"One of the hardest parts for me was going through chemotherapy and losing all of my hair, right before my year 12 formal" – says Holly, who has no photos from the time she was diagnosed.

It was during her treatment at the Women's & Children's Hospital that Holly was gifted her Elliot thanks to generous supporters, just like you.

''I was given Elliot when I was going through treatment in hospital, I don't have anything else except for my Elliot from that time in my life. I remember I wrote to Elliot, there was so much going on and to take in, it was overwhelming," - she says.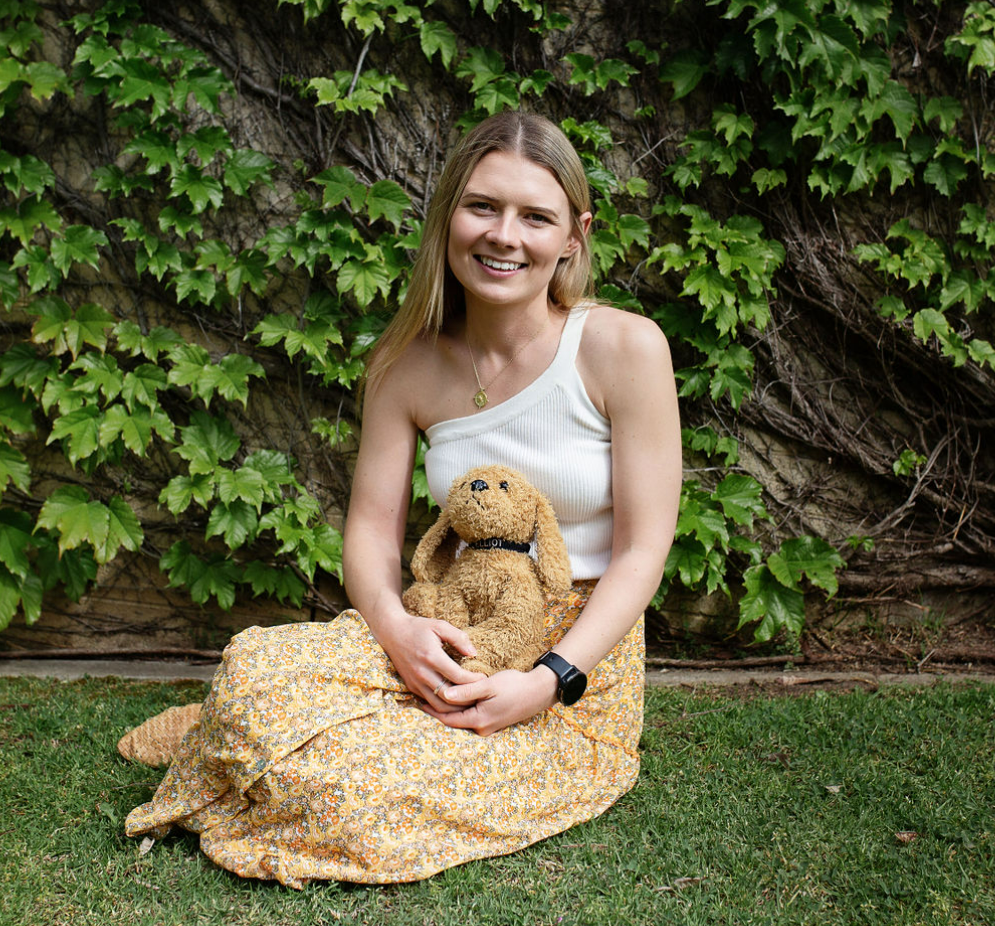 Holly remembers Elliot being special to her at the time but says ''I didn't realise how special he would become to me, post cancer. Being an older child going through cancer, now he feels more special to me than he did at the time. For younger kids going through that, he puts a smile on their face."

Holly was unable to finish year 12 in the traditional sense but was given a predictive score. This meant that she could put all her efforts and concentration into her health and getting better.

"I had always planned to go to uni after school – but after my cancer diagnosis, I needed to take a break to concentrate on my health, to get better,"- she says.

Holly met her now husband when she was going through her last round of chemotherapy. It's been 12 years since Holly's diagnosis and she is sharing her story for one of the first times, to show her daughter Ivy, who is four, how you can show your strength to help others, to give them hope for their future.

"After having Ivy, I wanted to get back to my studies and I decided to enrol in nutrition which is a strong passion of mine and what I wanted to do after I had finished school and before my diagnosis. It's taken a long time, but I am doing it. I want to show my daughter that I am strong and have a lot of resilience because of what I went through. My cancer experience has shaped who I am today, but I am getting back to where I wanted to be."
"When I think about Elliot, he is special – he was there, he went through the journey with me. He is my reminder of what I went through, that I am strong and what I have achieved and am still achieving. Mum has a connection with him too. He is so special and sentimental to me to this day and has a special place in my home, which is now by my daughter Ivy's side,'' - says Holly.

By donating, you're making sure children with cancer and their families will not have to face their devastating cancer experience alone. Thank you.